04 Jun

Outdoors is In and Indoors is Out! Says The Hill's Magazine
If you haven't gotten your copy of this May's edition of The Hill's Magazine, here is a little overview and breakdown of their Outdoor Obsessed article, written by Cisely Thummel, where experts including Kansas City Hardscape owner, Benjie Lewis, talks hot and upcoming outdoor trends in hardscaping.
In the above article, Thummel talks about how outdoor living is on the rise and people are finding new ways to incorporate their favorite indoor focused activities, like cooking, dining, lounging, and entertaining, into sunshine and starry night filled outdoor activities.
Outdoor experts, including our owner Benjie Lewis, say if you are looking to create your perfect outdoor space and bring your favorite indoor pastimes into the outdoors, these are the most popular and upcoming outdoor trends to consider:
Patios
Entertaining guests will never be the same when you have a hand-built, hardscaped patio. Pavers come in wide varieties of materials and colors, and can be laid out in many designs. Popular design layouts being Herringbone, Running Bond, and Basket Weave. You can also add borders and mix pavers to give your space more color variety, definition, and contrast. Our owner, Benjie Lewis, explains in the article that the new trend is slate, limestone, and sleeker, natural looking pavers for a cleaner, geometric look. Although, regardless whether you go with a tumbled stone paver or limestone paver, it's sure to impress!
Outdoor Kitchens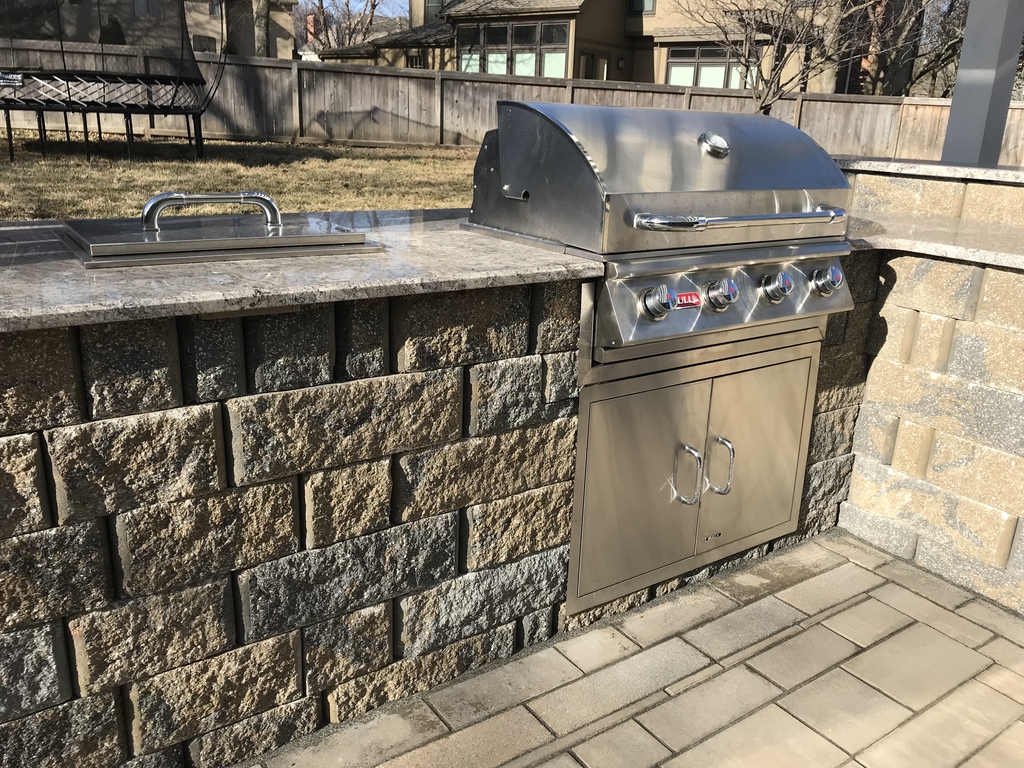 Bring your culinary talents outdoors with an outdoor kitchen. Incorporate whatever cooking elements you like: a grilling station, pizza oven, meat smoking station, rotisserie station or even an outdoor bar with built in keg coolers and wine cabinets!
Fireplaces
Who says fireplaces are only used in the winter season? Give your entertaining area an upgrade and beautiful focal point to feature. With multiple design options and materials to choose from, you can make your outdoor fireplace as simple or extravagant as you like. You can even add a built-in pizza oven—Yum!
Pools and Spas
Give your backyard a luxurious and functional relaxation element. Whether it's for cooling off, relaxing, exercise or for aesthetic purposes, you can't go wrong with an in-ground pool or spa in your outdoor space.
Pergolas, Walls, and Coverings
Help give yourself more control over the outdoor climate with a Pergola covered area. Pergolas help shield the sun to give you some shade as well as provide a lovely vertical structure that you can grow and hang plants on, hang other accessories on such as: hammocks, pergola canopies or screens, or simply leave it as is for a clean, minimalist look. With that, walls are also excellent tools to help level your space to give you more space to build and add elements on to and they can help add privacy to your space as well.
Once all these outdoor elements come together, you are sure to have an outdoor living space that is not only geared and equipped to handle all of your favorite activities, but one you are sure to enjoy and create memories in for years to come!
Want to read the full Outdoor Obsessed article? Visit our Facebook page at https://www.facebook.com/kansascityhardscapes/ and check out our Hill's Magazine post to read more!
A special thanks to The Hill's Magazine's Outdoor Obsessed article!