06 Aug

All of the Hardscape Elements of Fall
---
The season of fall is almost here!
When we think of fall, we think of crunchy leaves changing colors, pumpkins, football games, back to school, spooky Halloween, grilling and tailgating with friends, Thanksgiving surrounded by family, and so many star filled, cool nights around the glow of the fire, making smores or sipping delicious warm apple cider.
These are all the special ingredients that make the warm moments of the season and components that make unforgettable memories and that we keep forever.
One of these special components is where you celebrate and create these fall moments. Here are some ways to transform your backyard into the perfect place to create those fall memories:
Fire Pits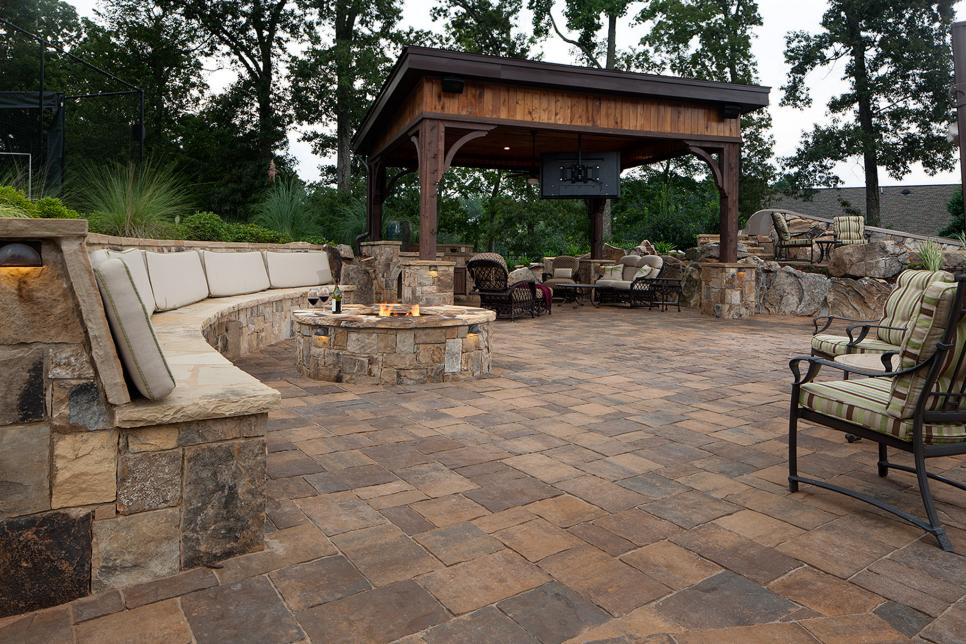 Fire pits are essential for those cool, fall nights. They not only give warmth and light, but you can always roasting marsh mellows or hot dogs with friends and family. Add a seating wall near the fire pit or gather chairs around to sit on, the fire pit will have plenty of room to accommodate everyone!
Today Fire Pits also come with many different visual lighting options, such as: glass rock, lava rock, regular wood, gas logs, gas powered, propane powered, and so many more options!
Fireplaces
While fire pits are always a go-to for a fall retreat, Fireplaces are also a great addition to any backyard.
While they are nice in the summer, they truly shine in the fall. They have similar functions to the classic fire pit, but depending on your personal style you may prefer a outdoor fireplace. Surround the fireplace with comfy outdoor furniture and listen to the crackling of the wood as you enjoy a glass of wine with friends or curl up with a good book.
Fireplaces can be made in all different materials and styles, and you can even add boxes on the sides for firewood and other storage!
Outdoor Kitchens
The fire element is of course one of the most important ingredients to a good fall season, but so is the food element!
Spice it up with an Outdoor Kitchen! Outdoor kitchens are great for anyone who enjoys being in the kitchen and simultaneously loves entertaining outdoors. They can come built in with all the essentials: grills, sink, wine cooler, trashcans, liquor bottle holders, power burner, pizza oven, ice chest, as well as plenty of bar seating area! Add a beautiful large dining table and lighting to have both fancy and casual dinners outside!
Think how wonderful Thanksgiving dinner would be spent outside with all your closest family and friends sitting at the bar as you cook! You all could enjoy the outdoors playing games, chatting, and sharing a magnificent meal at the table. Holidays at your home will soon be the standing tradition with an outdoor space like that!
Grilling Stations
Like Outdoor Kitchens, Grilling Stations have so much to offer in the fall season. Make your home the football pre game destination or you may even skip the game all together and enjoy it from the comfort of your outdoor space.
You can't go wrong with getting the grill setup of your dreams! You can mix and match any add-ons you like! A popular choice being a mini fridge, built in spot for your Green Egg, smoker, rotisserie cooker addition for the grill, or power burner! Although, there are so many more choices, if you can dream it, chances are they make it!
Add a big screen TV and some comfy furniture to your outdoor space and your party will feel relaxed and at ease with all your game needs at your finger tips.
Any combination of these hardscape elements would be the perfect fall addition and with the season just around the corner, we know this has your wheels turning.
We can't wait help you transform your backyard into a fall escape, ready and equip to celebrate and create all of your favorite fall memories and moments.
We can't wait to see what you've got planned!
Special Thanks to Outdoor Living by Belgard 2017 for Imagery!
https://www.belgard.com/
---